At Sisemore & Associates, both traditional survey techniques, as well as 3D high definition scanning and UAV mapping software, are used to produce accurate and reliable surveys. Our committed staff of experienced land surveyors utilizes state-of-the-art equipment (Hiper V Rover Stations, TopCon Total Stations, Topcon GLS Scanmaster Robotic Stations ) to assist in providing efficient and high-quality surveys. From the initial planning stages to the final completion of construction, we consistently provide our clients with the quality of service they deserve.
In addition, Sisemore & Associates is among a select group of professional land surveyors allowed to participate in the Federal program called CFedS, for Certified Federal Surveyors. The CFedS program was approved by the U.S. Secretary of the Interior and was designed specifically to enhance the level of knowledge and expertise in the professional land surveying community for survey work performed on federal lands and especially on Indian trust lands.
By incorporating cutting-edge technology in both the field and office we are able to provide our clients with cost-effective products and services. Our survey crews utilize the latest in hardware and software allowing us to capture the most accurate field data and directly input it into our CAD Design files. The electronic collection and transfer of data ensure both accuracy and timeliness.
As a result of our expertise and advanced technologies, we have been featured on the cover of POB Magazine. Below is the link to the article.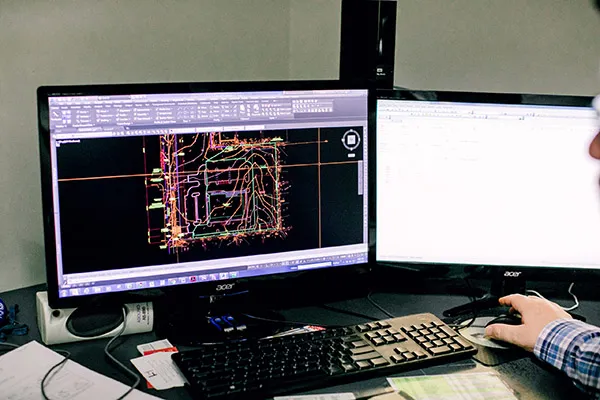 Services
The use of Global Positioning System (GPS) technology, 3D Laser Scanning, and UAV Mapping enable our crews to efficiently survey in terrain where it is not always practical to use conventional equipment. This technology and expertise allow our land surveying department to provide the following services:
Topographic/Planimetric Surveys
ALTA/NSPS Land Title Surveys
Boundary Surveys
GPS Control Surveys, Geodetic Surveys
Highway and Bridge Surveys
As-Built Surveys
Legal Descriptions & Easements
Control for Aerial Mapping
Forensic Surveys
Horizontal & Vertical Control Surveys
3D Laser Scanning
Quantity & Volumetric Surveys
Utility Detection
Wetland & Critical Area Surveys
Commercial Land Surveys
Public Sector Land Surveys
Platting
Unmanned Aerial Systems
Terrestrial Laser Scanning
ROW Mapping